CINDY SILVER
Barrister & Solicitor
Cindy Silver earned a B.A. (Hons.) at the University of Saskatchewan in 1987. She earned her LL.B (JD) from the University of British Columbia in 1991, and was called to the BC bar in 1993.
Through her 27- year career, Cindy has gained a broad range of legal experience in both litigation and solicitor's work. Along the way she has discovered that her real passion is in being a solicitor, working directly with clients to achieve their legal needs and goals from start to finish. Cindy has valuable interpersonal skills that enhance her effectiveness in representing a client's interest and perspective in real estate, contracts and corporate law.
In 2007, Cindy founded Silver Law. The ideas behind this personalized North Shore law firm are simple: to create an environment founded on a mix of old-style and contemporary business principles, combining professionalism and expertise with great customer service in a relaxed, welcoming environment.
Silver Law's goal is to develop working relationships with people who share common business values, including mutual respect. The purpose: to maintain an atmosphere where work is meaningful and enjoyable, both within the team and with our clientele.
Cindy Silver has been actively involved in the North Shore community for three decades, holding many elected and volunteer positions. Through Silver Law, she is committed to giving back to the community and offers a variety of pro bono services where they are needed.
QAINOOR KHAN NURANEY
Barrister & Solicitor
Qainoor is an associate lawyer at Silver Law with a broad range of legal experience in real estate, wills & estates, corporate and commercial law.
Before joining Silver Law, Qainoor worked with a downtown Vancouver business law firm recognized by LEXPERT and Best Lawyers Canada, and was an Articled Student with a highly recognized law firm in Vancouver practicing in real estate, corporate and commercial law.
Qainoor was born and raised in Nairobi, Kenya. After receiving her law degree from the University of Reading, United Kingdom in 2010, she was Called to the Bar of England and Wales in 2011 at the Honourable Society of Gray's Inn. Qainoor moved to Vancouver in the fall of 2011 and was Called to the Bar of British Columbia in July 2017.
Qainoor brings to Silver Law a passion for the law and an understanding of the value of inter-cultural communication and interaction in a diverse, globalized world. Qainoor's positive attitude and enthusiasm for the law contribute toward an enjoyable and productive work environment.
LEA SILVER
Real Estate Paralegal
Lea Silver has worked with Silver Law since 2009, specializing in real estate conveyancing. She received her B.A. in Business Administration from BCIT and is currently pursuing her law degree at the Thompson Rivers University. In her ten years experience at the firm, she has gained a thorough understanding and mastery over our practiced areas of law.
Lea's natural people skills translate to exceptional customer service in her work as a conveyancer and paralegal. She enjoys the quick pace and excitement of working in law, and loves the rewarding experience of helping first-time buyers purchase a home. Over the years she has gained an in-depth knowledge of real estate law and enjoys the challenge of a changing North Shore market moving towards lease-holds, float homes and condominiums on First Nations land.
Lea's dedication, attention to detail, and enthusiasm make her a valued member of the Silver Law team.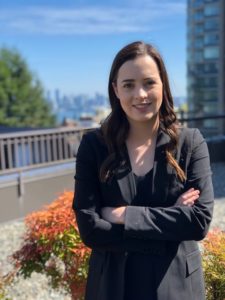 ALIYA SAINDON
Legal Assistant
Aliya Saindon is the newest member of the Silver Law team and assists in all areas including conveyancing, corporate law and wills & estates. She graduated with a B.A. (Hons) in Law in 2018 from Carleton University, Ottawa specializing in law policy and government.
Aliya recently relocated to Vancouver from the Okanagan where she worked as a conveyancer for a top Okanagan law firm. She brings to Silver Law a passion for public policy and a generous, hardworking attitude.